Transforming Outdoor Living: A Blow Molding Case Study on the Outdoor Storage Chest
At Western Industries, we thrive on challenges. When we were presented with the task of engineering an Outdoor Storage Chest, we saw it not only as an opportunity to put our expertise to work but also to innovate and push the boundaries of what's possible with blow molding. This case study will take you through the journey of transforming a concept into a tangible, functional product.
The Problem:
An Exciting Challenge in Outdoor Design
Our journey began with an intriguing challenge: Design an outdoor storage chest that harmonized with various environments and outdoor furniture styles, while maintaining a low profile. The product had to offer adequate functionality for the end user, along with efficient packaging and shipping considerations for retail display and transit requirements.
The design complexities of this project were multifold. It was crucial that the storage chest blend seamlessly into a variety of outdoor settings, from quaint garden patios to sprawling poolside decks. At the same time, the unit needed to maintain a compact size for effective retail display and easy shipping. Meeting these requirements called for innovative thinking and meticulous design planning.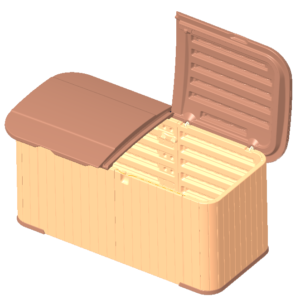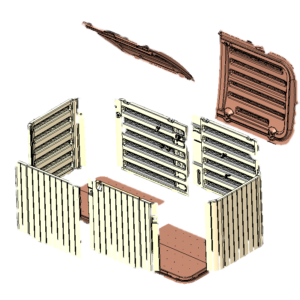 The Solution:
Expert Engineering and Ingenuity
Our team of experienced engineers and designers rose to the occasion, crafting a solution that married form and function. The design featured a split door/lid opening that works in conjunction with an injection molded hinge. This innovative design approach not only enhanced the aesthetics of the chest but also facilitated ease of access.
To accommodate retail and shipping specifications, we incorporated knock-down capabilities into the design. This smart design feature allowed the unit to be efficiently packed and shipped, while ensuring a simple and intuitive assembly process for the consumer.
The Results:
A Versatile and Functional Outdoor Storage Solution
The result of this project was an Outdoor Storage Chest that is as beautiful as it is functional. The product harmonizes with a variety of outdoor styles, thanks to its subtle design and the use of UV stable and weather-sustainable materials. It boasts ample room for storage, making it a practical addition to any outdoor space. 
The storage chest meets the specific demands of retailers, with its efficient design enabling cost-effective shipping to consumers. More importantly, it stands as a testament to our commitment to innovation, quality, and customer satisfaction.  customers.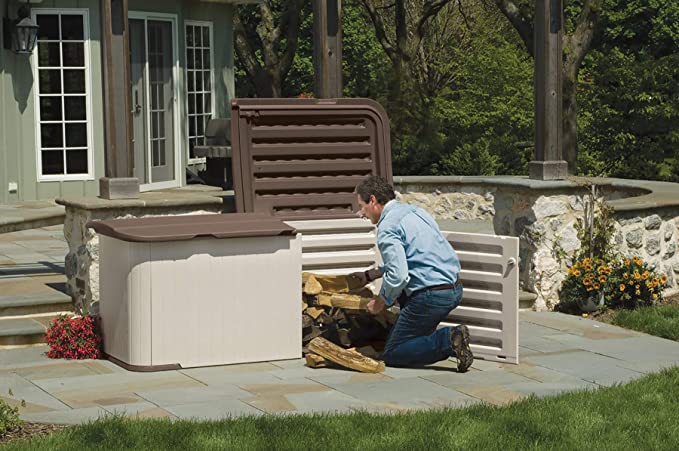 This project highlights the capabilities of our design and engineering team, and the potential of blow molding in creating versatile, aesthetically pleasing, and functional products. At Western Industries, we continue to push the boundaries of what's possible, delivering solutions that meet and exceed the expectations of our